Workshop helps high school students communicate science to the public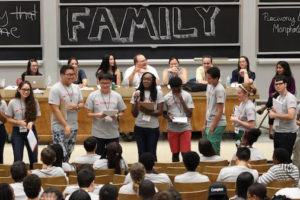 Words by Sydney Lester, photos by Meredith Lawrence
132 rising high school seniors from across the country fine-tuned their abilities to communicate science to lay audiences during a science-writing workshop on July 30 at MIT. Part of the MIT Online Science, Technology, and Engineering Community (MOSTEC) conference, the workshop featured a panel of ten experienced writers and highlighted the importance of communication skills in science and engineering careers.
The conference was part of the MOSTEC program, a six-month experience that challenges high school seniors with rigorous, technical projects and gives them the opportunity to discuss science, engineering and college admissions in a supportive online community. Inspired by the MIT Graduate Program in Science Writing, this year's four-week MOSTEC science writing course, which included the July 30 workshop, matched ten science writers from the MIT graduate program with groups of 12 to 14 students whom they taught remotely before the conference. Program Coordinator Louis Fouché added the course to MOSTEC in 2012.
One MOSTEC science writing instructor who participated in the workshop was Emily Ruppel, who studied English literature for her undergraduate degree and felt unsure of her career path before finding a home at MIT. As a graduate student, she learned how apply her nonfiction writing skills to science and technology stories. "The MIT graduate program has a focus on really making you a better writer," said Ruppel. With a new passion for science writing, she jumped at the opportunity to teach the MOSTEC course upon finishing her graduate studies.
Ruppel sees the course as crucial to the success of the future scientists of MOSTEC, who will one day find themselves writing grant proposals for their own research funding. "Writing and communication are such integral parts of the process of science," Ruppel said. "Scientists can explain their projects to a multitude of audiences, so the better prepared they are to talk to those audiences, the better prepared they are for science."
Another reason science writing is so important, according to MOSTEC science writing instructor Erin Weeks, is that the public plays a significant role in scientific advancement. "So many discoveries are made with public funding, so scientists owe it to the public to tell them what they've been doing with that funding," said Weeks.
During the on-campus workshop, instructors led activities to test students' ability to write with clarity and brevity. During the first exercise, instructors presented complex sentences for students to simplify. In another exercise, students paired off and discussed their MOSTEC project work with partners, who presented what they learned to the group. Whenever students heard something an audience might not understand, they "buzzed" for the speaker to use more accessible language.
Through both exercises, instructors reinforced that communicating with general audiences requires writers to think carefully about word choice and narrative. "You have to be very entertaining," Ruppel said. "You want your audience to enjoy it so much that they don't realize they're picking up complex concepts along the way."
The panel of instructors fielded questions for the second part of the workshop. MOSTEC student Ashia Ajani, a Colorado native with a passion for poetry, asked about blending her own creative brand with the technical elements of science writing. Ruppel responded with an excerpt from the description of the MIT Graduate Program in Science Writing: "Science writers may, or may not, hold academic credentials in science or engineering. But they are always humanists, one foot in the sciences, the other in the arts, as apt to be seduced by a shapely sentence as by an elegant scientific idea."
MOSTEC students left with a better understanding of science writing and how to communicate their ideas and research. "I'm hoping that this course breaks down the notion that science isn't for everybody," said Fouché. "You want science to benefit everyone. I'm hoping as time moves forward that scientists more clearly see the importance of being able to engage in scientific discourse with the general public."