OEOP to offer fully virtual learning experiences in Spring-Summer 2022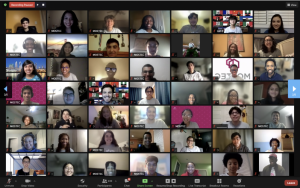 After conducting extensive research and weighing the current uncertainties related to Covid-19 and its variants, the MIT Office of Engineering Outreach Programs has decided to offer fully virtual experiences for the 2022 spring and summer terms. The residential MITES program, and the on-campus components of MOSTEC will not be offered this year, and SEED Academy will be virtual for its spring semester.
In light of this decision, all MITES applicants will automatically be considered for admission to the MOSTEC program.
"We know it is disappointing that our students will not have the opportunity to physically be among peers," said OEOP Executive Director Eboney Hearn. "We have not offered in-person summer programming since the beginning of the Covid-19 pandemic in 2020, and we were certainly excited about the prospect of meeting our scholars on campus this year."
Our community's health, safety and wellbeing are of the utmost importance for the OEOP, and the team's research made it clear that in-person experiences would not be feasible this spring or summer. Hearn explained that when the MOSTEC & MITES application opened in November, the state of the pandemic, public health guidelines, and MIT policies for K-12 visiting programs suggested that the OEOP could offer residential experiences in 2022. Then the public health scenario changed radically due to the Omicron variant of Covid-19. The team intensified and expanded their research to evaluate options for Summer 2022, meeting with several organizations and colleagues managing MIT's response to Covid-19 for current MIT students, staff, and faculty and reviewing updated federal, state, education guidelines and MIT's evolving policies.
The team learned that we in the OEOP do not currently have the health and medical infrastructure and resources that would be required to ensure the safety of K-12 visiting students in residence at MIT during a pandemic. This includes access to on-campus medical personnel, mental health and counseling personnel, and team members that can focus on implementing pandemic-related protocols and procedures prior to student enrollment and until they safely arrive back home. "While it may be tempting to draw a comparison with MIT students, serving visiting minors on MIT's campus is not the same," said Hearn. "We have different needs and challenges to ensure our scholars' health and wellbeing."
Middle and high school students from diverse backgrounds are at the core of the OEOP's mission. And we are committed to serving as many students as we can with high-caliber, transformative learning experiences, said Hearn. "For this, we are thrilled to have MOSTEC's 10 years of experience in virtual programming, and SEED Academy's recent experience transitioning to the online world."
MOSTEC is a 6-month, interactive and virtual STEM exploration program. MOSTEC scholars take a deep dive into a science and engineering project course, and hone their skills in science writing, calculus, physics, or computer science. They learn from top professionals across the country and make meaningful connections with peers and mentors. Like MITES alumni, MOSTEC scholars then go on to study at top-tier universities.
Through MOSTEC and SEED Academy's virtual semesters, more than 600 OEOP scholars have safely continued their exploration of science and engineering and developed close knit communities of like-minded peers. This spring, SEED Academy will welcome a new cohort of students for the first time since 2020. "We are so excited to welcome 50 new SEED Academy scholars, and we look forward to selecting the 2022 MOSTEC class," said Hearn.