FAQs for prospective staff
Find answers to frequently asked questions about MITES program staff positions or use the search bar to search keywords.
Boston abounds with teaching opportunities, but few have a mission like MITES.
I have been an instructor for MITES for 10 years so I have a couple early MITES kids who are in Ph.D. programs now. It has been really nice to see students' journeys."
Joe Steinmeyer
MITES Instructor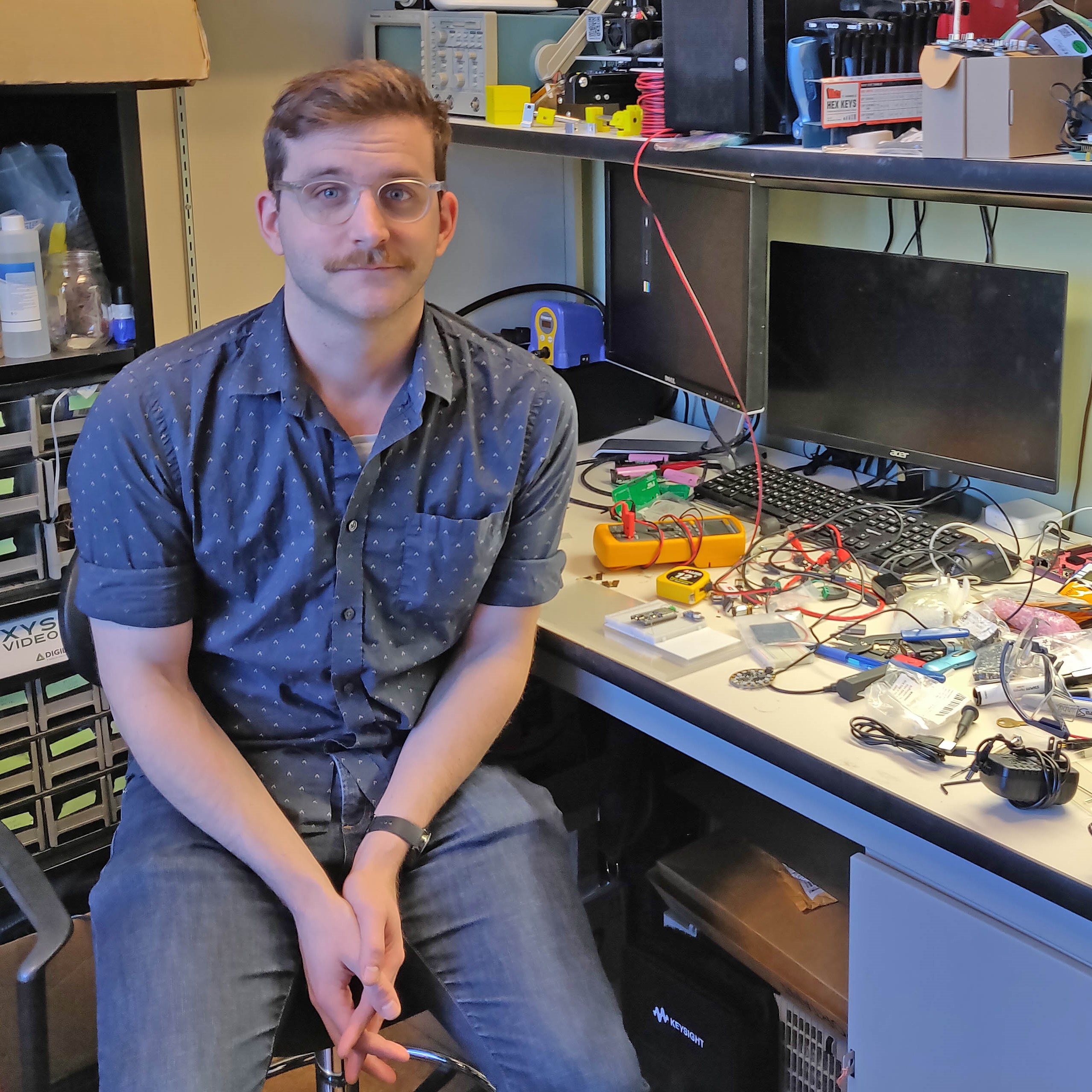 MITES (formerly MIT Office of Engineering Outreach Programs) provides transformative STEM experiences for middle and high school students from underserved and underrepresented backgrounds—free of charge. For nearly 50 years, we've offered rigorous pre-college STEM programs and rewarding learning opportunities within a warm, close-knit community where students make friends and connections for life. Our programs empower students to use their knowledge to address urgent issues facing their communities and the world at large. Together, all of us at MITES—our staff, instructors, and our scholars—live MIT's mission to make the world a better place, for everyone.
MITES offers three programs:
MITES Saturdays: Multi-year STEM academy for 7th–12th graders in Boston, Cambridge, and Lawrence, MA public schools (formerly SEED Academy)
MITES Semester: Hybrid STEM program for rising high school seniors, June through December (formerly MOSTEC)
MITES Summer: Six-week residential STEM experience for rising high school seniors (formerly MITES)
MITES Saturdays occurs over eight sessions during the fall (August to November), and eight sessions during the spring (February to May). Staff are hired for semester-long appointments (fall or spring).  Many staff choose to work both fall and spring, however that is not required.
MITES Semester spans over 6 months (June to December) and the schedule, time requirements, and appointment dates vary by position. Generally speaking, Program Facilitator (PF) and Online Facilitator (OF) roles last the duration of the program, and Instructor roles are for summer only.
MITES Summer occurs on campus between June and August. Staff are hired for full-time and part-time positions. Residential and non-residential positions are available. Generally speaking, Program Facilitator (PF)and Teaching Assistant (TA) roles are residential and Instructor roles are not. Room and board are included for residential positions.
Eligibility and positions
Applicants must be legally authorized to work in the United States. MITES does not sponsor work visas.
If hired, applicants must be at least 18 years old on or before the beginning date of employment.
Non-MIT affiliated candidates must meet the following additional criteria to ensure compliance with US payroll law:
Must be based in the US (they can leave the US for no more than 30 days)
Must have a US address
Must have a US bank account
Must be authorized to work in the US
Must complete onboarding materials (including notarization of relevant forms) in the US at least 5–7 days prior to start date.
For MIT affiliated candidates:
This qualifies as MIT on-campus work, therefore MIT international degree candidates on MIT immigration documents are eligible to apply. Contact the International Students Office or the International Scholars Office to confirm eligibility.
Other MIT employment may impact eligibility for the job due to potential conflicts. MIT postdocs are not eligible. Please reach out before applying with any additional questions.
All applicants must provide references who can speak about their work experience and/or character.
As MITES works with minors, employment offers are contingent upon satisfactory completion of background check.
No. MITES hires its program staff members as independent contractors. Independent contractors do not qualify for MIT benefits including, but not limited to, health insurance, retirement, vacation, etc.
Teaching Assistant, Online Facilitator, and/or Program Facilitator roles: applicants must have completed at least 1 year of college. Rising or current freshmen are not eligible for our staff positions.
Instructor roles: applicants must have an undergraduate degree. Graduate experience and/or professional working experience is preferred.
Please view job descriptions for additional qualifications and role responsibilities.
Job descriptions will be posted on the MITES site. Check back in the winter for more information and a link to the descriptions.
MITES offers a variety of temporary positions, from fully remote and flexible, to part-time in-person on the weekends, to full-time residential during the summer.
MITES Saturdays offers the following part-time, in-person positions:
Program Facilitator (PF): 7–9 hours per session
Teaching Assistant (TA): 7–9 hours per session
Academic Mentoring Seminar (AMS) Instructor: 8–12 hours per session
Project Course Instructor: 8–12 hours per session
MITES Semester offers the following part-time, remote positions:
Program Facilitator (PF): 8–15 hours per week, June–January
Online Facilitator (OF): 3–8 hours per week, June–January
Project Course instructor: 10–18 hours per week, June–September
Intro to Computer Science Instructor: 10–18 hours per week, June–September
MITES Summer offers the following in-person Summer positions:
Program Facilitator (PF): 40 hours per week, residential
Teaching Assistant (TA): 40 hours per week, residential
STEM Course Instructor
Humanities Instructor
More positions coming soon!
View job descriptions for additional information.
The Online Facilitator, also known as an OF or Cluster Leader, is a mentoring staff position for our MITES Semester Program. OFs are responsible for leading a "cluster" of ~15 students, fostering a supportive, safe, and positive environment. The Online Facilitator is responsible for planning and implementation of weekly cluster meetings, and supports the implementation of program events and activities such as orientation, webinars, networking events, and game nights. The Online Facilitator communicates and meets virtually regularly with a collaborative team to ensure the wellbeing and success of program participants and to track student engagement and participation in MITES Semester's various online platforms. OFs provide guidance and mentorship, and play a critical role in each student's experience.
At MITES, we have Program Facilitators (PFs) for each program. PFs act as the main point of contact for Online Facilitators and Teaching Assistants and facilitate communication among the Program Coordinator and Administrator and staff. The Program Facilitator provides a mature and positive influence for both staff and students and helps to foster a supportive, safe, and positive environment. Under the direction of the Program Administrator, the PF works collaboratively to ensure that program participants and staff are meeting expectations and Institute guidelines for programs with minors. The Program Facilitator assists the Program Administrator, Program Coordinator, and Program Assistants with the planning and implementation of program activities and events, providing both administrative and programmatic support. The Program Facilitator will assist in data collection and analysis. They will also assist with urgent and time-sensitive issues concerning students/staff as needed. The Program Facilitator provides mentorship and plays a critical role in the success of the overall experience for both students and staff. This role is generally filled by upper-level undergraduate students or graduate students. Applicants interested in gaining leadership, event planning and administrative experience, while also having ample opportunity to interact with students are highly encouraged to apply.
Depending on the program, the time commitment for PFs ranges from ~8 to 40 hours per week and can be in-person, remote, hybrid, or residential. Read below for specifics by program.
MITES Saturdays: Typically, there is one PF hired for MITES Saturdays, and this is largely an in-person role. Requires attendance at all in-person Saturdays sessions during the fall and spring. The PF works closely with the MITES Saturdays Program Administrator and Program Coordinator. Time commitment ranges from 7-9 hours per week, mostly on Saturdays.
MITES Semester: We hire a team of 3-4 PFs for MITES Semester. In years when there is no conference, this role is fully remote. In conference years, PFs work remote for the majority of their 8-month appointment but are expected to be in-person (housing provided) during the 1-week summer conference at MIT. PFs have flexibility over when they log their asynchronous hours. Required events for this role generally occur in the evenings (after 5pm EST), with generally no events occurring on Fridays or Saturdays. Time commitment ranges from 10—15 hours per week during the summer, and 6-8 hours per week during the fall. PFs work closely with one another and the Program Administrator, and each support ~6-8 Online Facilitators.
MITES Summer: We hire a team of 2 PFs for MITES Summer. This is an in-person, full-time (40 hours/week), residential position at MIT. PFs are required to stay in the dorms during employment (June–August). PFs work closely with the MITES Summer Administrator in implementing program events and supporting Teaching Assistants.
Project Courses have varied over the years, and often change based on the expertise and interest of the instructor designing the course, but they are always STEM-based.
If applying for a Project Course Instructor role, you will be asked to upload a sample lesson plan for a hands-on activity. We recommend your sample lesson be based in your area of expertise and interest. The application also provides a space for you to list what topics you'd be interested in teaching.
If you're hired to design and teach a Project Course, you will be asked to propose your course title, description, key learnings, materials, prerequisites, and final project topic(s) to the respective Program Administrator. Then, you will be given a syllabus template and will have allotted paid time to design and plan for your 5-7 week course.
To view course descriptions from past Project Courses, click here.
No. Our instructors range from graduate and PhD students to scientists, engineers, mathematicians, high school teachers, and beyond. We offer instructional support via individualized syllabus and course design feedback, office hours, and training sessions.
Yes, and we encourage you to do so! If you meet eligibility requirements and your schedule permits, we encourage you to apply for more than one position. You will only be required to submit one application and will have the option to indicate your preferences. If you express interest in multiple positions, you may be invited for multiple interviews.
Applications are reviewed on a rolling basis until all positions are filled. Each cycle, we have several priority deadlines that are posted on the staff application homepage. Applicants who submit their applications before the priority deadline will be given preference in the respective review cycle.
Applicants interested in working for our MITES Saturdays program should apply in Summer (for the Fall semester) and Winter (for the Spring semester).
Applicants interested in working for our MITES Semester or MITES Summer program should apply in Spring.
MITES Saturdays extends offers in December and January for the Spring semester, and in July and August for the Fall semester. 
MITES Semester and MITES Summer extend offers in April and May. 
In the event you need an update sooner, we encourage you to email us at mitesapp@mit.edu. 
Yes! To learn more about our volunteer opportunities and to sign up, click here.
For any additional questions, please email mites@mit.edu
Still have questions?
For any additional questions not included in this page, please connect with us via email, phone, mail, or fax.
Contact us