Apply to MITES Semester and MITES Summer
MITES has been my biggest STEM motivator by showing me that my passion has so many avenues to pursue. Without my drive to learn more, I would not be here today.
MITES has been my second home where I've met my second family that I can confidently say are in some ways closer than my blood relatives. I've met people of many backgrounds and cultures, and I have learned to be myself."
Dre'Vonne Hilton
MITES '19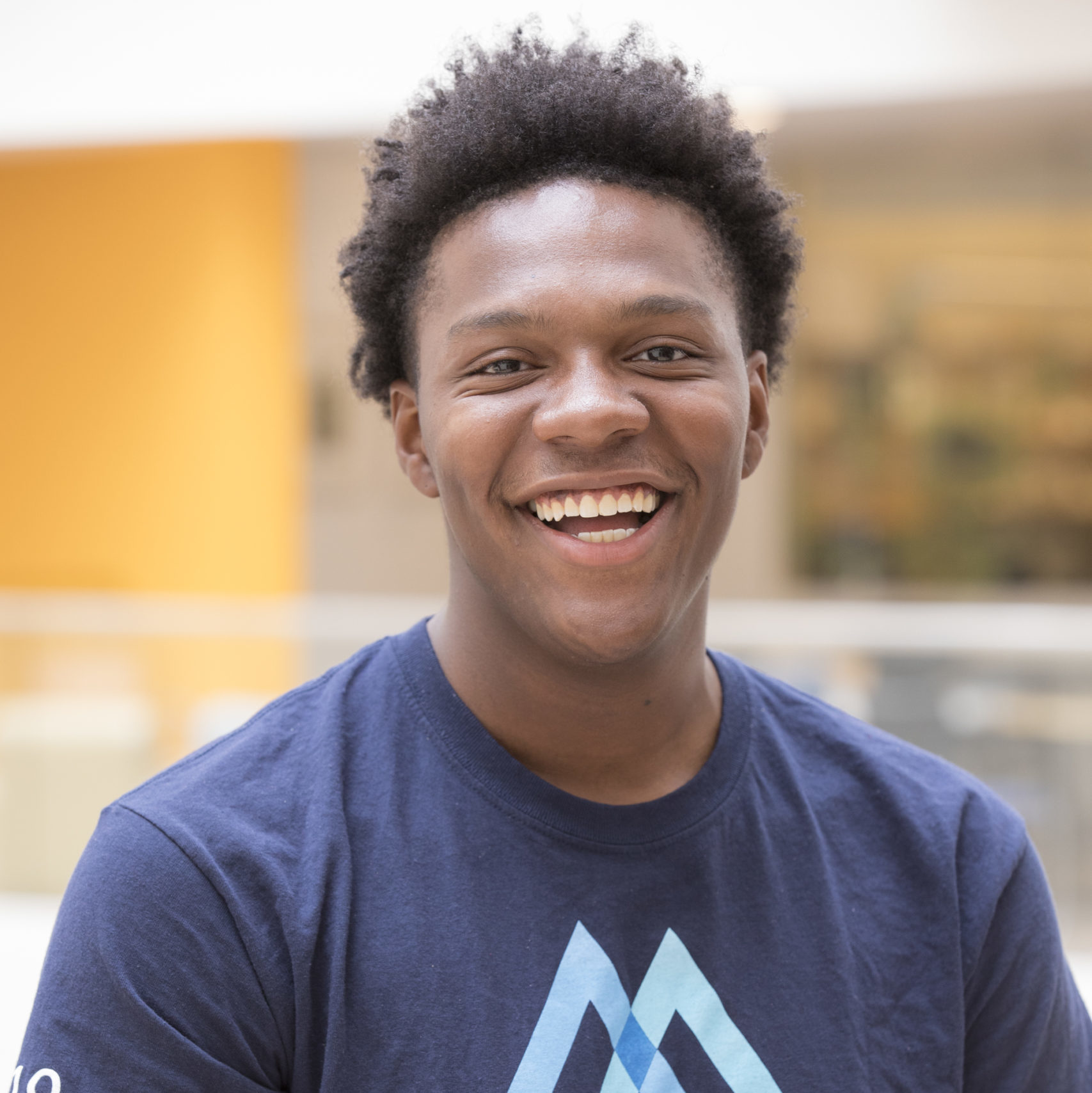 Selection Criteria
The MITES Semester and MITES Summer application and selection process is holistic, meaning that we consider a variety of factors when determining which students are the best fit for our programs. We look for students with demonstrated interest in science and engineering and a strong academic record who are motivated, hard-working, and focused on growth and improvement.
Students selected for MITES generally have the following qualities:
Passion for science, technology, engineering, and math—demonstrated through extracurricular activities, essays, and letters of recommendation
Strong academic record
We strongly encourage students from the following backgrounds to apply:
Underrepresented in science and engineering, defined as being African American, Hispanic/Latinx, or Native American
Underserved, defined as coming from low socioeconomic means, which may be indicated by qualification for free/reduced lunch
Potentially the first family member to attend college
Absence of science and engineering degrees in family
Coming from a high school with low admittance rates to top-tier colleges, especially rural or predominantly minority high schools
The MITES Semester and MITES Summer application is open to 11th graders. In order to be eligible for a MITES program, you must be a United States citizen or permanent resident with a current US green card.
All applicants who meet the eligibility requirements will be considered, regardless of race or ethnicity.
Start your application today!
To apply for MITES Summer or MITES Semester, set up an account at the link below and use an email address that you check regularly. The application opens in November.
Start or resume your application
This brief section consists of general questions about the applicant. Additionally, applicants have the option to indicate whether they want to be considered for one or both national programs. Note: We highly encourage students to apply for both programs. Applicants will only be considered for the program they indicate. Selected applicants will only be offered admittance into one of the two programs.
Applicants will be asked to provide their high school course history and upload an unofficial transcript which includes their GPA and completed courses from 9th and 10th grades as well as from the first quarter of their 11th grade year, if available. For information about weighted versus unweighted GPAs, see the FAQs page.
While test scores are NOT required for applying, we strongly encourage applicants to submit scores from at least one standardized test including: SAT I, PSAT, ACT, AP, or ACT Aspire/PLAN. Our admissions process is holistic, which means we consider many distinct factors and information shared in all sections of your application. Test scores provide a more complete picture of you. To include test scores, applicants must receive them before our submission deadline. Please refer to the College Board or ACT websites to determine test and score release dates.
Our short answer questions are designed to give us a sense of who our applicants are as individuals. We encourage applicants to begin brainstorming early and use each short answer prompt as an opportunity to share a different facet of yourself with us. Each short answer response has a word limit of 300.
The short answer prompts are as follows:
Share with us how aspects of your identity (e.g., race, culture, first-generation college student status, gender, etc.) shape your aspirations.
What are you passionate about? How have you spent time developing this passion?
What do you hope to gain from participating in the MITES Semester/Summer program? If selected, how would you contribute to the MITES Semester/Summer community?
Tell us of a time you experienced a significant challenge in your life. What did you do and what did you learn?
The STEM field uses science, technology, engineering, and/or math to understand more about the world around us and to solve problems. If you could develop, invent, or innovate anything to change the world for the better using STEM, what would it be and why?
(OPTIONAL): If you could meet us in person, what would you share with us about you that isn't already in the application?
Applicants will be invited to tell us about their extracurricular activities. The extracurricular activities section of the application gives us a sense of our applicants' passions and interests outside of the classroom.
Our application requires 3 recommendations that must be submitted by the recommenders via our online portal by February 15. We do not accept recommendation letters.
As part of the student application, each applicant will be asked to identify one recommender from each of the categories below.
Math or science teacher (from courses such as Algebra, Calculus, Trigonometry, Geometry, Biology, Chemistry, Physics, Anatomy & Physiology, Engineering, Earth Science, Computer Science, etc.)
Humanities teacher (from courses such as History, English/Literature, Art, Foreign language, Classics, Economics, Government, Music, Psychology, Sociology, Geography, etc.)
School counselor or administrator Note: this recommender will be asked to upload a school profile (document that overviews the school's demographics, curriculum, and grading scheme) and unofficial transcript, including 11th grade first semester grades on behalf of the student.
Once an applicant has indicated who their recommenders will be, each recommender will receive an automated email from our application portal with a link to fill out the unique recommendation form. Applicants must submit recommendation requests by February 1 (student application deadline). All recommendations are due by February 15 (recommender deadline).
We suggest that applicants check in with their recommenders early and often. It is the applicant's responsibility to ensure that recommenders have submitted their materials by the deadline using the online portal. A student's application will not be considered complete if recommendations are not received by the February 15 recommender deadline.
I was sad when the STEM Immersion Phase of MITES ended because I learned a lot.
It was really quite fun and I had the absolute best instructors one could ask for."
Diego Swaddipong
MITES '20
Application opens!
Identify who your recommenders will be
Begin brainstorming your short answer responses
Attend application office hours
Student deadline! All student applications must be submitted by 11:59 pm ET in order to be considered. This includes identifying 3 recommenders. Because of the large number of applicants, we encourage students to submit applications early—as soon as all sections are complete—in order to avoid the last minute website traffic right before the deadline.
Check in with your recommenders to remind them of the Feb 15 deadline
Recommender deadline! All recommendations must be submitted via the online portal by 11:59 pm ET
Decisions are released! Enrollment begins for admitted students.
Admitted students must complete all enrollment materials in order to participate in MITES. Admitted students must send one of the following in addition to other enrollment materials: (1) Official US Birth Certificate, (2) Valid US Passport, (3) Official Permanent Resident (Green) Card
Admitted students eligible for vaccination must be fully vaccinated against Covid-19 or have a medical or religious exemption in order to participate in MIT events and programs
Programs begin! Exact program start dates vary.